Bill Mundy was born in 1936 in Berkshire
and started painting before he was five
years old. After an apprenticeship as a
lithographic artist, he spent his military
service in the Far East as a cartographer
during the Malayan Emergency. He lived
in Asia for 20 years, and his career
progressed from Creative Director to the
position of Area Director for Asia with an
International Group of US Advertising
Agencies. He returned to England in
1978 to become a full-time artist
and portrait painter.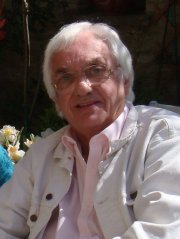 The artist's sitters have included HM King
Bhumipol Aduladej of Thailand, HRH
The Sultan of Johor in Malaysia,
HRH The Duke of Edinburgh, HRH
Princess Maha Chakri Siridhorn,
The Sultan of Oman, Sir David
Money-Coutts, Sir Peter Saunders,
Spike Milligan, General Sir Patrick Palmer,
Edwin Hunt - The Queen's Bargemaster,
Boris Johnson MP, Sir John Madejski OBE,
and numerous other famous personalities.
In 2008 Bill Mundy published his
autobiography - 'A Brush With Life'.