Bill Mundy is one of the world's leading
miniature portrait painters. Twice he
has been awarded the 'Exhibit of the
Year' prize at the Royal Academy of
Arts Summer Exhibition in London
for his larger paintings. His sitters
have ranged from Royalty and small
children to famous personalities in the
world of entertainment. His works,
both in miniature and full-size,
are represented in Royal, Public, and
private collections throughout the world.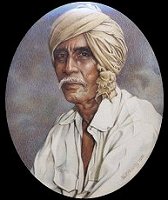 Bandhargh Singh
Bill Mundy has won all the major
awards in the world for miniature portrait
painting, and he lectures extensively
on the subject. He regularly travels
overseas to fulfil his many portrait
commissions. His large watercolours,
and some of his oil portraits, are painted
in a pointilist style, while his miniatures
adopt the traditional style of the old
master miniaturists. He lives and paints
in his riverside studio at Henley-
on-Thames in Oxfordshire, England.